Gold Note PH-1000 Line Phono Preamp

Gold Note PH-1000 Line Phono Preamp


A NEW ERA IN THE ART OF REPRODUCING VINYL
THE MOST ADVANCED PHONO STAGE
The PH-1000 is simply the best Phono Stage we have ever created, a unique piece of audio engineering designed to be innovative in every possible way and 100% made in Italy. Featuring class A exclusive discrete components like a class A headphone output, infinite EQ curves with 4 manually adjustable presets plus 36 EQ curves, and the high-quality class A line preamp (optional). For the first time ever, you will be able to play virtually any record the way it's meant to be thanks to the infinite EQ curves available – that's why the PH-1000 is a complete game-changer, opening a new era in vinyl reproduction.
PERFECT CARTRIDGE MATCHING
With 14 Gain levels and 12 Load levels, as well as 7 Capacitance options dedicated to MM cartridges, it is the ideal phono stage for high-performance analogue systems, capable of driving even the most exotic cartridges with perfect synergy, making the PH-1000 a professional instrument for high-end studio recording.
On top of that, you can change settings and make ultra-fine adjustments, including the EQ curve, simply by using the SKC and the display as you are playing music. Our innovative technology allows the best ease of use while preserving entirely the sound quality as it works in the analogue domain: the interface is digital and independent from the audio path, which is completely analogue. The result is an ultra-low noise phono stage with high gain and no audio filters.
All the functionalities are in fact managed through discrete audio-grade components and sealed single switches, always shortening the signal path to deliver superior audio quality and extract even the finest details from the vinyl record. Powered by our custom firmware, the PH-1000 can be easily updated via computer when necessary.
MAXIMUM FLEXIBILITY
The PH-1000 offers 3 independent inputs, two RCA and one XLR. There are also 2 other inputs, one RCA and one XLR, that can be used either for the external load plugs for even finer control of the Load or as line inputs on the PH-1000 with Preamp.
Add the other functionalities, such as the Headphone Output, the Stereo/Mono control with phase inversion, the L/R Channel Swap, and the Rumble Subsonic Filter, and here you have it, the most advanced phono stage on the market.
NEW MODEL AVAILABLE: PH-1000 LITE
The PH-1000 LITE is designed for those looking for the utmost quality and looking for 3 independent inputs (2 unbalanced RCA, 1 balanced XLR), the ability to select EQ curves, and play Stereo and Mono LPs.
HIGH-QUALITY COMPONENTS
The level of quality meets the highest standard throughout the entire production: from the aluminium ultra-solid chassis machined with precision to the electronic components and circuitry that undergo strict QC computer-controlled tests.
UNLIMITED EQ CURVES
RIAA, Capitol, Columbia/CBS, Deutsche Grammophon, Decca London USA, Decca London UK, and Decca Mono 78rpm,
Epic, HMW, Mercury, RCA Victor, Philips, Elektra, L'Oliseau-Lyre, Parlophone, and more. Each curve can be "enhanced" with our proprietary technology inspired by the Neumann Cutting Lathe for superior dynamic and musicality.
TOTAL CONTROL
The PH-1000 shows every detail on the colour display powered by our proprietary firmware. With the SKC (Single Knob Control technology) and the display, you have an intuitive system to easily control the phono stage and quickly make fine adjustments without even interrupting the playback.
HEADPHONE OUTPUT
You can now enjoy the shortest audio path ever with the PH-1000, your turntable, and your headphones – that's all you need for the audio signal to go from the vinyl directly into your headphones without the need for additional stages.
MODULAR DESIGN
For the most demanding audiophiles, the PH-1000 can also be further enhanced with our external power supply PSU-1250 / PSU- 1000, or even the external tube output stage TUBE-1012 / TUBE-1006, to reach the highest level of musical realism in terms of dynamic, details, and imaging.
IMPROVES THE PERFORMANCE OF YOUR PH-1000
Add a PSU-1250 to your PH-1000 and your phono stage will be always supplied with the optimal amount of current without generating EMI or RFI that could affect the audio signal, opening up the dynamic, micro and macro cosmos of your LPs.
TECHNICAL SPECIFICATIONS
FREQUENCY RESPONSE
20Hz – 20kHz
EQ CURVES
18 EQ curves all with Enhanced option (+/- 0.3dB)
Infinite EQ curves with 4 manually adjustable presets (only on PH-1000 / PH-1000 LINE)
THD (TOTAL HARMONIC DISTORTION)
<0.01% max.
SIGNAL TO NOISE RATIO
100dB
DYNAMIC RANGE
110dB
INFRASONIC FILTER
10Hz/36dB octave (ON/ OFF)
MONO/STEREO
Stereo, Stereo 180°, Mono, Mono 180°, Mono L
CHANNEL SWAPPING
R/L, L/R
IR RECEIVER
For multifunctional remote control
AUDIO INPUTS
2x unbalanced RCA (0.1mV MC up to 8.0mV MM)
1x balanced XLR (0.1mV up to 1.0mV MC)
LOAD
12 options for RCA
[100kΩ, 75kΩ, 47kΩ, 33kΩ, 22kΩ, 1kΩ, 470Ω, 220Ω, 100Ω, 47Ω, 22Ω,10Ω]
8 options for XLR
[4k7Ω, 1kΩ, 470Ω, 220Ω, 100Ω, 47Ω, 22Ω,10Ω]
External Load supports RCA and XLR plugs (only on PH-1000 / PH-1000 LINE)
CAPACITANCE

OFF, 100pF, 150pF, 220pF, 330pF, 470pF, 1000pF
GAIN
PH-1000 / PH-1000 LINE
40dB MM to 65dB MC with 7 options [0dB, ± 3dB, ± 6dB, ± 9dB]
PH-1000 LITE
40dB MM to 60dB MC with 7 options [0dB, ± 3dB, ± 6dB, ± 9dB]
LINE INPUTS LEVEL
2Vrms (standard) up to 2,5Vrms (max)
AUDIO OUTPUTS
1x unbalanced RCA @1V
1x balanced XLR @4V
1x Output Stereo for Tube (balanced GN) for optional TUBE-1012 & TUBE-1006
OUTPUT IMPEDANCE
Unbalanced 100Ω
Balanced 300Ω
OUTPUT LEVEL
2Vrms standard up to 2,5Vrms max
POWER CONSUMPTION
30W
PSU INPUT
For external power supply Gold Note PSU-1250 & PSU-1000
POWER SUPPLY
Dual-Mono linear power supply
100-240V with auto sense, 50-60Hz
FUSE
2A F
DIMENSIONS
430mm W | 135mm H | 375mm D
630mm W | 350mm H | 600mm D – boxed
WEIGHT
Kg. 12 – net
Kg. 17 – boxed
BLACK


Black anodised aluminium with a traditional brushed finish
SILVER


Silver anodised aluminium with a traditional brushed finish
GOLD


Gold anodised aluminium with a traditional brushed finish
VALVE OUTPUT STAGE
TUBE-1006: Class-A 6 Tubes output stages with Dual Mono/inductive tube power supply
TUBE-1012: Class-A 12 Tubes output stages with Dual Mono/inductive tube power supply
EXTERNAL POWER SUPPLY
PSU-1250: external inductive Dual-Mono power supply capable of delivering 300W
PSU-1000: external inductive Dual-Mono power supply capable of delivering 200W
PH-1000
Infrasonic filter
Mono/Stereo control
2 RCA and 1 XLR phono inputs
RCA and XLR outputs (class A)
Headphone output
Capacitance, and Load fine adjustments
Gain 40dB (MM) to 65dB (MC) with fine adjustments
18 EQ curves with Enhanced option
Infinite EQ curves (4 manually adjustable presets)
External load (RCA and XLR plugs)
L/R swap
Class A preamp stage (1 RCA, 1 XLR, only on PH-1000 LINE)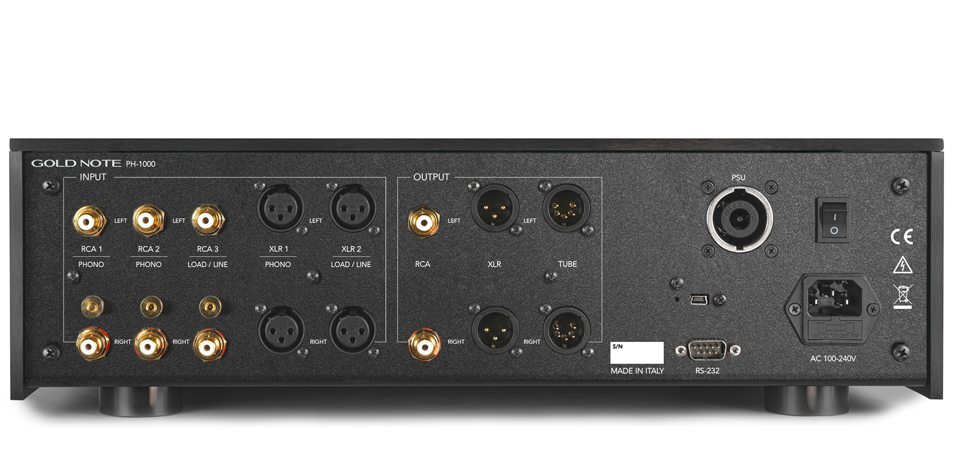 REMOTE CONTROL
Multifunctional remote control included
MODE KEY
Press SHIFT + PRE on the remote to control the PH-1000 (you can select a different mode key from the SETTINGS menu).