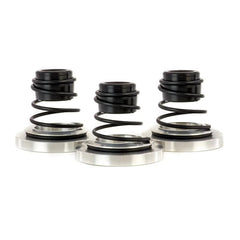 MIchell Audio Coated Suspension Springs
THE WORLD'S MOST ICONIC TURNTABLES
Michell creates reference class vinyl playback systems for people who love music.
Description
MIchell AudioCoated Suspension Springs
Our new rubber-coated suspension springs bring a significant upgrade to all pre-2021 GyroDec / Gyro SE / Orbe / Orbe SE Turntables. By damping the spring's natural ability to resonate when exposed to air bourn vibrations, the rubber coating prevents the music playing in the room from feeding vibrations back into the turntable.

This small innovation gives a significant increase in performance. Bass response is tightened, and instruments and vocals are more defined within the sound stage.
(Not in stock, Special order item)