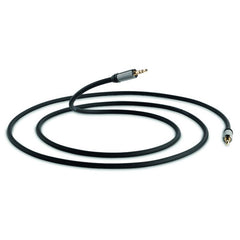 QED Performance Audio J2J - Mini>Mini Interconnect Cable
Founded by Bob Abraham and Ian Vine in 1973; QED has, over the past 40 years, acquired unparalleled knowledge and experience of hi-fi and home cinema cables and connectivity.
We are the market leader but we're certainly not complacent. Our design engineers constantly investigate new technologies and undertake scientific research to ensure we always offer our customers the very best products on the market. As far back as 1994 we conducted the most extensive ever scientific investigation into the effects of speaker cables on hi-fi system performance. The results were astonishing, and can be found on our website under the heading 'The Genesis Report'. The report produced clear evidence that speaker cables do matter, and we continue to use this information today. We urge you to try QED cables for yourself. If you do you'll discover the differences in sound quality that QED hi-fi cables can really make.
Description
Performance Audio J2J 1/8" Mini to Mini Audio Interconnect Cable
The multi-award winning Performance range presents the Performance Audio Jack to Jack interconnect.
The Performance J2J cable utilizes design concepts from the high end Reference range to optimize audio performance when connecting your mobile device, tablet, PC or MAC to your amplifier or any device with a 3.5mm stereo jack input. These include enhanced shielding, low capacitance dielectric materials and 24k gold plated RCA plugs. All QED cables are covered by a lifetime guarantee.
FEATURES AND BENEFITS
99.999% Oxygen Free Copper conductors
These provide a low resistance audio path
Low density polyethylene dielectric
Because of its low dielectric constant this material has been used to cut down on the amount of audio signal energy lost due to cable capacitance
Ergonomically sculptured zinc plated alloy barrel
Provides ease of installation and a stunning finish
Gold plated close tolerance 3.5 mm connectors
Features a 3.5 mm stereo connector at both ends. Because gold does not tarnish it provides a lasting low contact resistance
Stepped Jack Plug
A specially designed stepped 3.5 mm plug which allows the cable to be used when the portable device is protected by an external case.
QED Lifetime Guarantee